Back in March, the WELLIES group were gifted an old vintage tractor to refurbish, now to keep the refurbishment for this vintage vehicle going the group needs an engine hoist. If there were anyone with an engine hoist they no longer need and would be able to gift to the group then it would help move the project forward tremendously. Commented, WELLIES Project Manager, Nick Platt.
The tractor project is aimed at attracting hard to reach, socially isolated people in rural areas who don't usually engage in similar projects or services.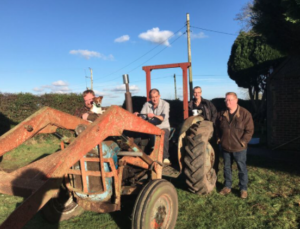 The group has been working really hard on the tractor and now they intend to start work on the engine. If you think you or someone you know could benefit from taking part in this project then please get in contact with Julie or Nick.
This project is a great way to meet new people but learn some new skills we are hoping that this engineering/mechanical project will attract and engage new people – perhaps older men who have the skills and experience.
Julie White, WELLIES Project Manager says "The group is very enthusiastic about this new project, it's something really different for them and they are learning lots of new skills." The group has the ambition to enter the finished tractor in a rally or country show next year. Julie added, "It's great to see the team really working hard on this. If we could enter the tractor in a small event next year it would be amazing!"
Nick Platte added, "It can be hard to engage older men who are isolated, but this project has helped us to do just that. We are a really friendly bunch and Julie and myself can really see the impact WELLIES it has on people".
Email: info@growingruralenterprise.co.uk
Call: Julie on 07971 666 474 or Nick on 07767 844 921